#post
Position: Home > Mixed Media > #post
#post
a geolocated soundscape for
Schaufensterausstellung »queer AND BEYOND [choose category]«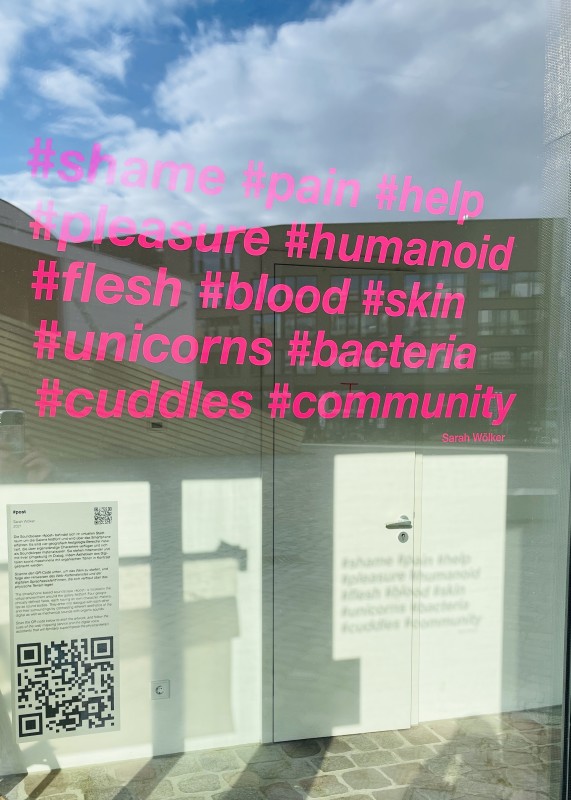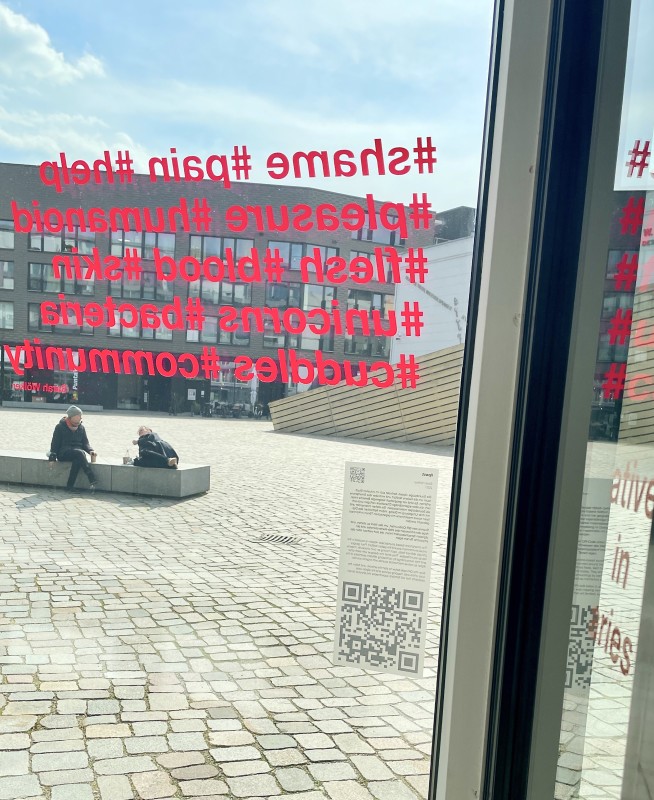 The smartphone-based soundscape #post is located in the virtual environment around the gallery feldfünf. The geographically defined fields to walk through, each having an own character, materializing as sound bodies. They enter into dialogue with each other and their surroundings by contrasting different aesthetics of the digital as well as mechanical sounds with organic sounds.
#post is an interactive transmedial soundscape turning the area around the feldfünf gallery into a playground.
Die Soundscape #post befindet sich im virtuellen Stadtraum um die Galerie feldfünf und wird über das Smartphone erfahren. Es sind geografisch festgelegte Bereiche installiert, die über eigenständige Charaktere verfügen und sich als Soundkörper materialisieren. Sie stehen miteinander und mit ihrer Umgebung im Dialog, indem Ästhetiken des Digitalen sowie maschinelle mit organischen Tönen in Kontrast gebracht werden.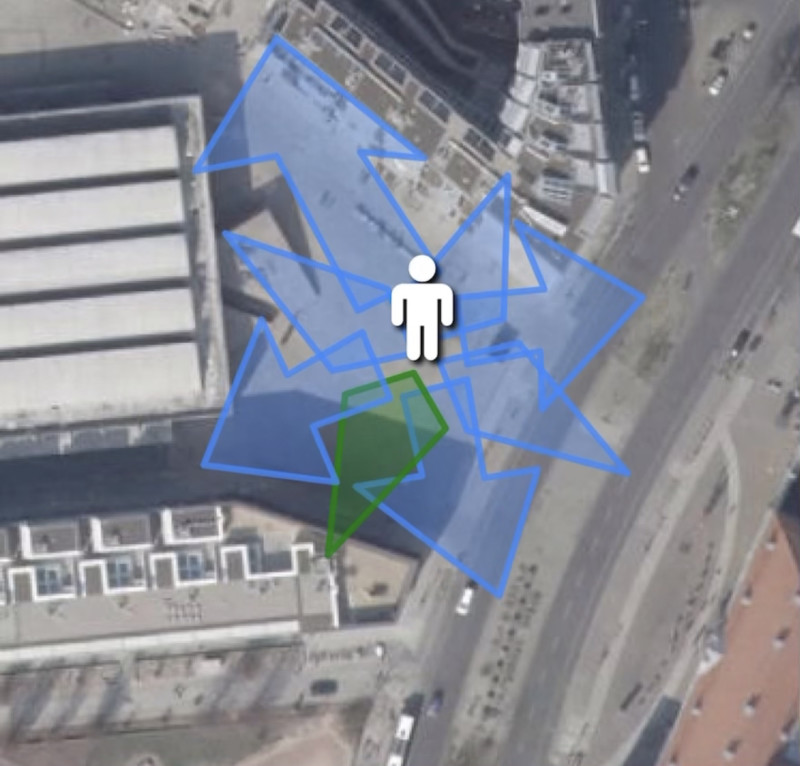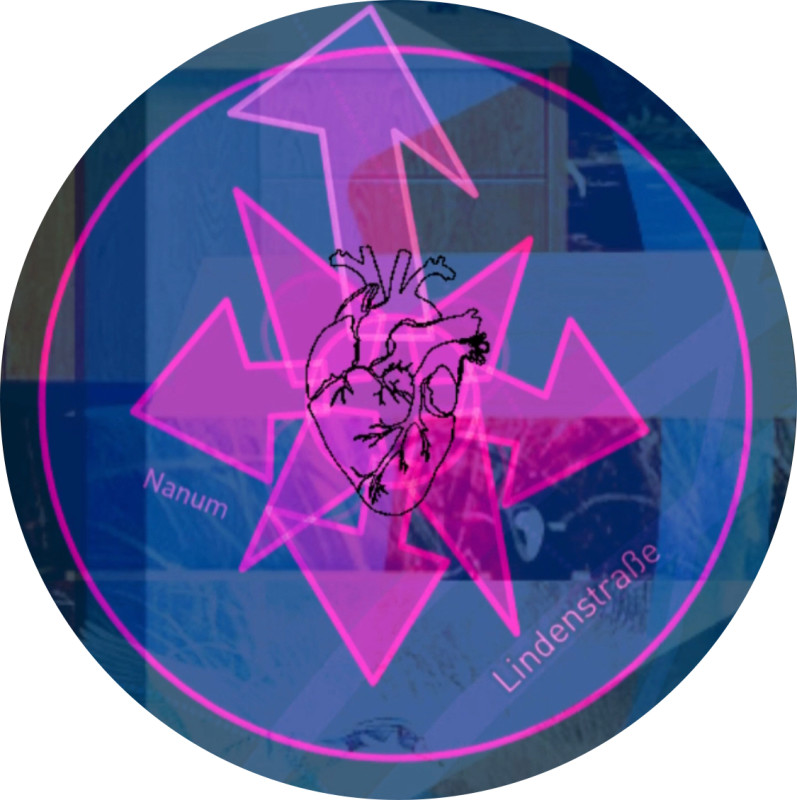 The way players forge their own paths through the area shown in the digital interface and its related audio, highlights what a vital role players have within the experience, one that will inevitably affect results. The individual´s choice is critical to the outcomes as they move and negotiate between an established analogue world and the movable infinite digital one.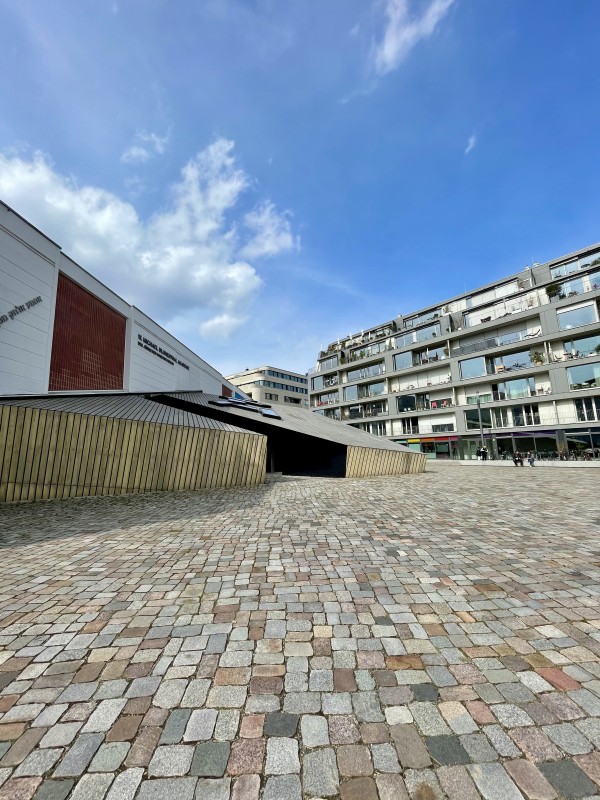 Hashtags like in #post / #post_hyperreal and quotes on the windows are to connect to the virtual space and to open up your communication with and about the four fields + queerness:
#if freedom is what queerness means to me #then #else
 #choose a hastag-hierarchy- or don't. #post #repost #wording #TALK:
#beyond #divers #lgbtq+ #lsbtiaq #lgbtqia+ #camp #post #postdigital #post #real #reel #presence #hyperreal #postthehyperreal #post_hyperreal #postdigital #dgtlfeminism #intersectionalfeminism #queerfeminism #trans #queer #bears #unicorns #masters #servants #vanilla #flint #heteronormative #cis #gis #fis #responsive #intercultural #transcultural #decolonized #desynchronised #sustainable #degrowth #humanoid #flesh #blood #skin #hair #bacteria #fungus #parasites #material #water #vivavanitas #moving #sensors #space #time #existence #extensions #expanding #entropy #patterns #labelsandboxes #omnisexual #crossing #lines #savage #sassy #sissythatwalk #translivesmatter #dykemarch #rainbow #pride #alternativepride #bipoc #instagay #love #positive #consent #makeup #queerart #fagswag #intergaycial #shame #pain #pleasure #lesbiansoftiktok #blueisthecoldestcolor #acceptance #rejection #violence #fucking #intimacy #hope #disgrace #hot #youth #cuddles #community #help #bekind #foundfamily #loveislove #equality #equalityforall #rainbowwarrior #buntewelt #butch #lesbiche #diversity #intersectional #inclusionanddiversity #diversityisbeautiful #equalitymatters #pride #happypride #lambda #enby #transmasc #queerecology #kinship #makingkin #lgbtcommunity #fightsexism #lgbtrights #pinkblock #queerblock #rainbow #nonbinary #transbinary #genderfluid #pansexual #bi #biromantic #softboi #asexual #gender #gendermedicinegap #genderhealthgap #individialmedizin #intersectionality #flinta #gaystragram #gaylove #transgender #entangled #drag #yassqueen #queens #queers #queen #dragqueen #lovewins #queervisibility #queerness #aromantic #peonouns #neopronounsarevalid #amor
humanoid, soundcollage, 1.40 min – about:
#synchronisation #desynchronised #decolonized #movinganalogue #breathe #touch #hope #disgrace #love #intimacy #pride #shame #pain #pleasure #loveislove #talk #post #repost #post_hyperreal
chronoise, soundcollage, 1.28 min – about:
#chronoise #entropy #patterns #vivavanitas #moving #movement #sensors #timeandspace #post #post_hyperreal 
time is fluctuating, flexible, expandable, solvent. Stillness and movement are timeless matters. how does time resist impositions of uniformity and coherence? The movement of you/the living clock will gyrate with momentum. From time to time a moment to experience silence…
HAL, concrète/postdigital- Soundcollage 1.44 – min about:
fusion of my Krakow-City-Soundgraffito #nickasion (lovers at the station) with 
#pierreschaeffer #hal9000 #siri #signals #ai #voiceassistants #desynchronisation
Bonustrack – bridge between plus & HAL –
Plus, + soundcollage/poem 2 min – about:
#lgbtq+ #nature #freedom #liquid #nightswimming #water #existance #extensions #flesh #blood #skin #bacteria #fungus #downtoearth #makingkin #hierarchyless #conversation #post #post_hyperreal
meet the hyperreal @hashtagpost_hyperreal  
containing extracts of the sound pieces, and a location check-mark on the map to connect the digital to the analog location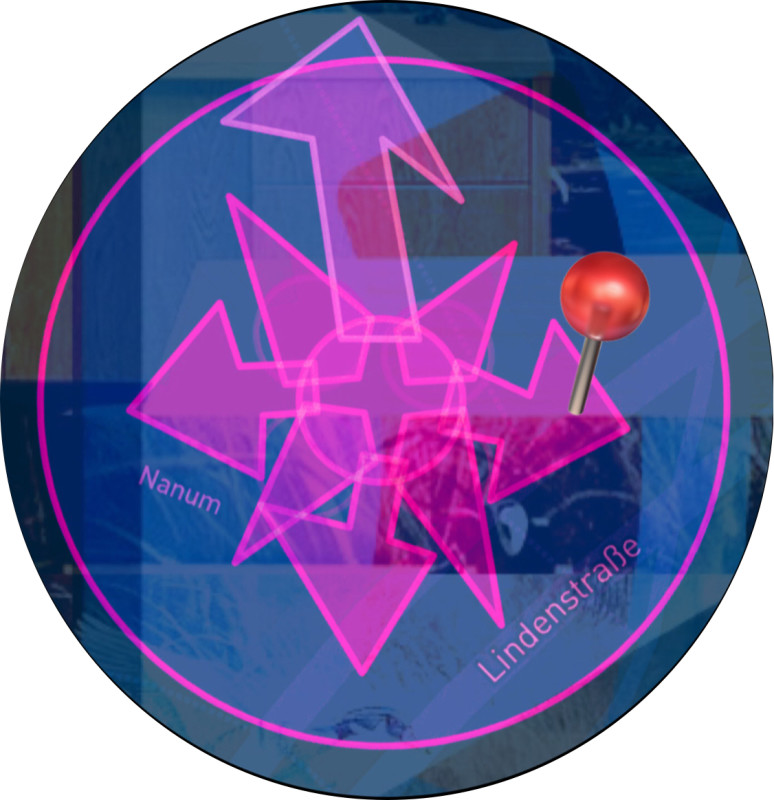 To talk about transit, postings, messages, the hybrid analog and digital movement the browser based geolocated tool(Sonicmaps -)is providing the structure for a playful approach to sound, time and space as powerful game changers. Five (visible/+ ten invisible) fields of the soundscape are oscillating between being immersive and playful to generate new patterns. most important about the order of the fields, they are to be walked through without hierarchy! – Is the direction to perceive the environment clockwise? As the content of the pieces is designed in an order to receive best on your own intuition and movement patterns and to play without being influenced. Part of the queer and beyond exhibition is keeping it as hierarchy-less as possible. Keywords about directions can be shared in layers, shades and traces of you using communication structures such as hashtags or your choice (avatar…) to build up movement-, activity-, activism- or community- feeling…